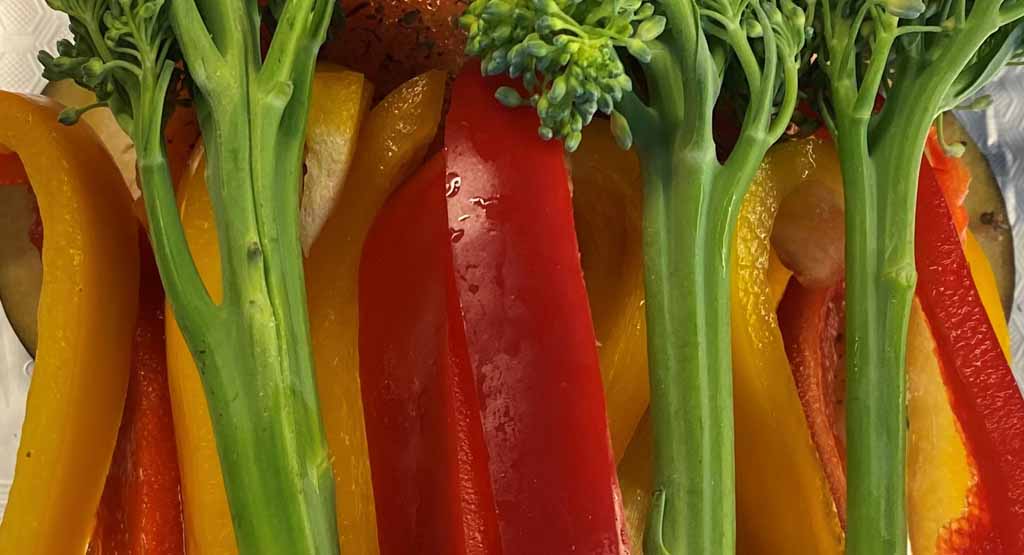 Recipe of the month "Fish package from the oven"
This healthy and colorful meal is not only very tasty, easy and quick to make, it also looks like a party on your plate with all its different colors. And you can easily vary with it by using a different fish species. I use cod and salmon in the recipe below. Keep in mind that if you vary in fish type, such as salmon (fatty fish with more kcal in it) compared to cod, then adjust your portion size accordingly. This meal is rich in protein and because of all vegetables it is also full of vitamins, minerals and fiber. All in all, a delicious and healthy recipe to try!
Ingredients for 1 person:
150 grams of cod or 50 grams of salmon
60 grams of orange bell pepper
60 grams of red pepper
125 grams of eggplant
100 grams of Bimi
little pepper and salt (optional)
Preparation method:
Turn the convection oven on to 200 degrees.
Clean the vegetables and cut them into slices and strips.
Clean the fish and check for bones.
Tear off a piece of silver foil.
First place the aubergine on top and add a little salt and pepper.
Place the fish on top of the aubergines.
Cover the fish (alternately) with the pepper strips
Place the bimi on top of the fish and bell pepper.
Finally, fold the silver foil so that the package becomes.
Place the fish package in the oven for 25 to 30 minutes, then it is ready.
Bon appetit, enjoy!
NOTE! To make it easy to log this dish in your Lijfstijl food diary, we have also included this recipe in the food app under "my meals" and recipe name "RWIJK GYM Fish package with cod or salmon"
* Side dish: Spaghetti aglio e olio
50 to 75 grams of cooked spaghetti
1 large tablespoon of olive oil
3 clove of garlic
possibly. 1 or 2 chili peppers
5 grams of fresh parsley
Preparation method Spaghetti aglio e olio:
Cook the spaghetti al dente.
Clean the garlic (and possibly chili pepper) and cut them into small pieces.
Fry the garlic (and possibly chili pepper) in olive oil.
Add the al dente cooked spaghetti and stir it together.
Finally, add the fresh parsley (and parmesan cheese if desired).
Quick and easy to make and delicious to eat with the fish package.
nutritional value fish package with cod:
Calories: 208 kcal
Carbohydrates: 11 grams = 21 EN%
Fat: 3.1 grams = 13 EN%
Protein: 32.9 grams = 63 EN%
nutritional value fish package with salmon:
Calories: 202 kcal
Carbohydrates: 11 grams = 21 EN%
Fat: 8 grams = 33 EN%
Protein: 18 grams = 33 EN%
Source: Chef Roberto; )